You've Got Mail (1998) Movie Review
by Paul Harrison
(Wrexham, United Kingdom)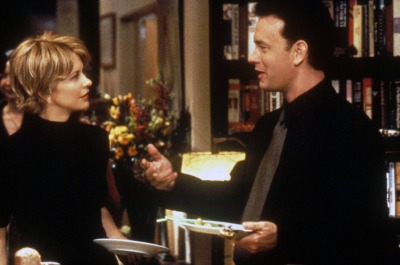 You've Got Mail is a much-loved romantic comedy that still has the power to entertain audiences even now, more than fifteen years after it was first released. At the heart of the movie's appeal are its two effortlessly engaging stars, Tom Hanks and Meg Ryan, and a plot based on the timeless theme of two characters who seem to be just right for each other, but who then have to deal with a series of obstacles to their love.

Kathleen Kelly (Meg Ryan) owns a neighborhood children's book store in New York. She and her small team love the books that they sell and put the emphasis on providing a very individual service to each of their customers. Joe Fox (Tom Hanks) is also in the book trade, but he initially appears to be Kathleen's polar opposite. He's the head of a large, very successful bookshop chain that plans to open up a branch near to Kathleen's store which will effectively threaten to put her out of business.

Meanwhile Kathleen and Joe are both just coming towards the end of other relationships and, in one of those amazing coincidences Hollywood conjures up to move the plot along, they get to know each other in an internet chat room. Soon they start exchanging confidences, each of them looking forward to the arrival of the next email. They share very little information about the everyday details of their lives, however, and don't realize that in reality they are deadly business rivals.

In the hands of two less accomplished actors than Hanks and Ryan the email plot device could fall flat on its face and end up being a bit tedious, but they are both skilled performers and such is their onscreen chemistry that the plot zips along with enjoyable wit and genuine dramatic tension.

Of course Tom Hanks and Meg Ryan have performed together in a romantic comedy before. The 1993 success Sleepless in Seattle established their credentials in this genre and You've Got Mail shares the same screenwriter, Nora Ephron. Ephron's script is smart, sophisticated and provides a perfect balance of laugh-out-loud humor and emotional punch.

Soon Joe's new store opens and its effect on Kathleen's shop's sales is immediate; she cannot compete with the big chain's discounted prices. By another twist of fate the two of them meet at a party soon after Joe's store has opened and, quite naturally given the circumstances, they seem to take an instant dislike to one another.

Thereafter Joe and Kathleen frequently bump into each other in the neighborhood and continue their verbal sparring on each occasion. The fun for us as the audience is that, at this stage, we know something the principal characters do not know: these two deadly rivals in the business world are, in fact, best buddies in their online relationship.

You've Got Mail succeeds because it combines a sparkling script and crisp direction with the onscreen presence of two genuine Hollywood stars. It also gives us some memorable one-liners. For instance, describing his soon-to-be ex, who is a hard-nosed publishing executive, Hanks quips: "Patricia makes coffee nervous."

This is more than just another romantic comedy. You've Got Mail manages to combine the very modern themes of small business versus global business and whether online relationships can ever succeed in the real world with the oldest romantic theme of them all. For, as the story in this movie develops, we're kept in suspense as to whether two people who seem to be perfect for each other will ever actually get together.