Working Girl (1988) Movie Review
by Sue
(Faversham, United Kingdom)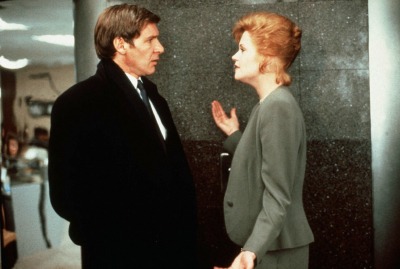 Working Girl is a lighthearted movie about an ambitious young woman who wants more out of life than being a secretary and getting married to her loser boyfriend. Set in New York, this 1988 movie has a cast of eighties favorites including Melanie Griffith, Sigourney Weaver, Harrison Ford, Joan Cusack, Kevin Spacey and Alec Baldwin. The plot is a winning combination of good over evil with a sprinkling of romance added in.

Tess McGill (Griffith) is frustrated with her lot as a secretary in the typing pool, and after gaining a business degree at evening classes, sets her sights on an executive role at a Wall Street bank. After publicly humiliating a lecherous, cocaine-snorting colleague, she finds herself working for a new boss, Katharine Parker (Weaver). Katharine appears to be nurturing Tess by encouraging her to share any business plans she has, but Katharine is in fact ready to pass on any good ideas as her own.

Katharine sets off on a European ski trip with her love interest, and she leaves Tess to run the office while she's away. Katharine is convinced that her man will pop the question on this vacation, but instead, she finds herself alone in hospital with a broken leg after an accident on the slopes.

While Tess house-sits her boss's home, she discovers that her ideas for a Trask Industries merger are being used by Katharine. Using Katharine's absence as an opportunity, Tess uses her boss's connections and attends a party where she meets Jack Trainer. Jack is Katharine's beau, but neither Jack nor Tess are aware of their connection. Tess and Jack together take her ideas of a merger straight to Trask Industries, cutting Katharine out of the arrangement. Of course, when Katherine comes home, she discovers what Tess has been up to and there's an embarrassing showdown in the middle of the important meeting. Jack is horrified to have been caught in the middle of these two women, and he doesn't know who's right and who's wrong.

Who will get the deal with Trask Industries, and who will get the guy? Can Tess get the recognition she deserves and does Katharine get found out? Anyone who has watched American movies made in the 1980s will guess how it ends, but that doesn't spoil it at all. You're compelled to watch this well-crafted rom-com right to the end, and can't help but hope that Tess gets what she wants.

Cynthia, Tess's oldest friend, played by Cusack, has some of the best lines in Working Girl and there are plenty of laughs when she appears. Cusack was nominated for an Oscar as "Best Supporting Actress" for this role. Cynthia has a couple of memorable lines from the movie, such as: "Can I get you anything? Tea? Coffee? Me?" and "Sometimes, I dance around my apartment in my underwear... doesn't make me Madonna, never will". "Let the River Run" by Carly Simon won many awards for this film and is played during the powerful opening credits. The song, along with views of the Staten Island Ferry and Statue of Liberty, set the scene spectacularly and is a very powerful way to start this fun movie.