Wimbledon Movie (2004)


Wimbledon movie (2004) is all style with little substance and unfortunately it's the script that lets it down. It's great to look at and as a sports movie it works on some level but it doesn't break any new ground. Paul Bettany and Kirsten Dunst fail to generate any sparks.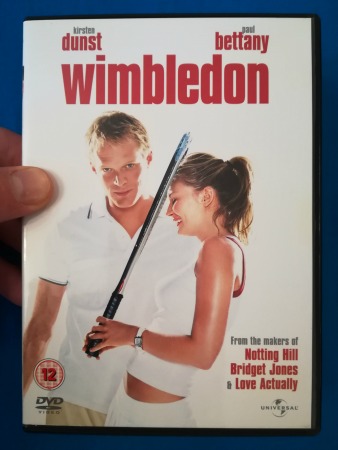 The story: Struggling English tennis player, Peter Colt was once ranked number 11 in the world but his game has slipped and now he's ranked at 119th. Failing to finish big matches he feels he's too old to compete with younger players. He wins a wild card slot for his last tournament on the hallowed lawns of SW19 before he takes a job as a tennis coach at a prestigious country club. As the games begin, he meets American tennis prodigy Lizzie Bradbury who is playing Wimbledon for the first time. The two players begin a relationship and Peter begins to play better than ever. Now he might actually win the thing.

Pros:

Cool opening credits
Photographed beautifully by Woody Allen's favorite cinematographer, Darius Khondji
Exciting tennis sequences with great CGI
Cons:

Dull, cliche ridden dialogue - having three screenwriters doesn't help
The trailer makes the movie look funnier than it actually is
Very safe, lightweight, cookie-cutter story
Neither romantic nor funny
Paul Bettany as a leading man can't carry the movie
Lizzie isn't a likeable character
Tiresome, overly-quirky family
Peter and Lizzie are more like siblings than lovers
Sam Neill's cardboard cutout role



Wimbledon
comes from the same makers as
Four Weddings and a Funeral
and
Notting Hill
. Directed by Richard Loncraine, the best thing about it are the superb tennis scenes which have lots of digital effects and are thrilling. Former Wimbledon champion Pat Cash trained Dunst and Bettany for months and it shows as the action is palpable.
However, the main problem is the writing which is flat and predictable. There's nothing memorable here, no quotable lines or standout banter between the two leads or between anyone for that matter.
Also, some aspects of the movie just don't add up. The fact that Peter and Lizzie stay up late before important games is baffling. Shouldn't they each be going over their game plan and then getting a good night's sleep?
Peter's agent, Ron and Lizzie's father, Dennis are reduced to mere caricatures. And as for Lizzie, she doesn't come across as a very sympathetic character. She seems to use Peter and drops him as soon as her game starts to suffer.
Overall, Wimbledon is amusing enough but its bland, witless script and conventional story thoroughly disappoint. It'll only just hold your attention for its 98 minutes running time.
Watch Wimbledon Movie Now


Romantic Comedy

›
British Romantic Comedy
› Wimbledon Movie (2004)