When Harry Met Sally (1989) Movie Review
by Gemma Kuzyk
(Leicester, United Kingdom)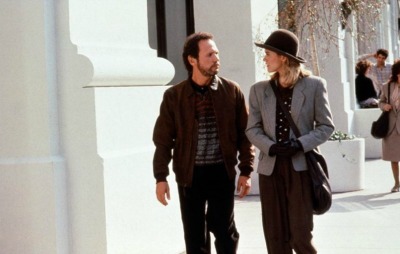 Perhaps the greatest thing about Rob Reiner's 1989 romantic comedy classic When Harry Met Sally, is the witty and sometimes quite comical dialogue between the film's two leading characters. The cute and opinionated Sally Albright, played brilliantly by Meg Ryan, first meets Billy Crystal's equally charming character Harry Burns in 1977 when they share an eighteen-hour road trip from the University of Chicago to New York City. Although they don't immediately hit it off and Sally even appears to be quite appalled by Harry's banter and bad behavior, the on-screen chemistry between these two actors is clearly evident. This is definitely one of Crystal's best performances.

The main premise of the film, which involves the age-old question of whether men and women can be friends without sex becoming an interfering factor, is introduced during the initial scene and each character's opinions on the subject is made very clear. In fact, this conversation leads them both to decide that they cannot be friends.

The film continues with several chance encounters between Harry and Sally in New York. The first time they are reunited, some five years after they first met, they end up on a flight together and discover that they are both in relationships. Another five years later, they meet in a bookstore and after establishing the fact that they are both now single, they decide to become friends. These two scenes set the stage for a very convincing relationship between Harry and Sally and the conversations that they have are both delightfully funny and very epigrammatic. It's no wonder why the film's writer Nora Ephron received a British Academy Film Award and an Oscar nomination for her excellent screenplay.

The main focus of whether a man and a woman can successfully develop a platonic friendship means that the topic of sex is a common theme throughout the film. The hilarious but somewhat unrealistic scene in the busy diner when Sally loudly fakes an orgasm is only one of the many scenes where sex is the main topic of conversation. Although there are no actual sex scenes in the film, a good majority of the conversation focuses on the topic. With extremely entertaining one-liners and amusing anecdotes from the film's leading characters as well as the supporting characters played by Carrie Fisher and Bruno Kirby, the subject of sex is treated lightly and humorously despite being an essential element of the plot.

Although the storyline is not very original and there are a couple of unconvincing scenes such as the aforementioned diner episode and Sally's crying fit in her apartment towards the end of the film, this is a romantic comedy that has withstood the test of time and is still highly enjoyable almost three decades later. The split-screen scenes are particularly clever especially when, after an awkward encounter between the two leading characters, we see Marie and Jess in bed with each having a separate telephone conversation with Sally and Harry respectively.

The endearing and sometimes quite amusing interludes of elderly couples talking about their romantic pasts is a very nice touch and means that the development of Harry and Sally's relationship is cleverly broken up into chapters. These interludes are all the more effective as they reflect real-life love stories about how each couple met and fell in love.

Fisher's major hint in the bookstore added to the regular interludes of old married couples gives viewers a blatant nudge towards the film's conclusion but this certainly doesn't take away from the fact that this is an immensely entertaining and enjoyable movie.