This Means War Movie (2012)




This Means War movie (2012) was trashed by critics and deservedly so. The plot is absurd, there's no character development and the whole thing is just plain stupid.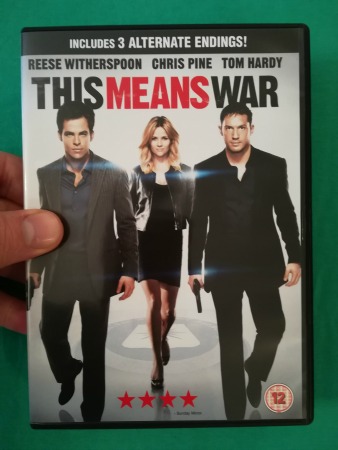 The story: Tuck and FDR are two CIA agents and best friends. They've been assigned to desk duty after a covert operation in Hong Kong goes wrong. Tuck, who's recently divorced starts dating perky Lauren after seeing her profile on a dating site. FDR meets her too (on the same day) and also starts dating her. When they discover that they're both seeing the same woman they decide to let her choose between them. Using America's high-tech facilities they soon start to sabotage each other's dates with Lauren.
Pros:
Some belly laughs are to had as Trish (Chelsea Handler) makes love to her husband while dishing out dating advice to Lauren
There's good chemistry between Tom Hardy and Chris Pine and the bromance between them is far more interesting than their interactions with Reese Witherspoon
Cons:
It's preposterous that two CIA agents who are hunting for a major criminal have enough time on their hands to woo Lauren
Lauren's character is hard to warm to as she dates two guys at the same time, she's clearly underhanded and indecisive
It also seems unbelievable that someone who looks like Reese Witherspoon can't find a date
Tuck and FDR are allowed to redirect CIA resources for personal use without raising suspicion from their superiors
The subplot regarding the terrorist Karl Heinrich doesn't have much depth and a lot of the movie passes without any mention of him
Poor Angela Bassett doesn't have much to say or do as she breezes in and out of the film and then it's only to chastise our two "heroes"
FDR's house has a ceiling which is the glass bottom of a swimming pool, even the CIA doesn't pay that much
The outdated script places Lauren and FDR in a huge video rental store
Lauren must be deaf and have no peripheral vision not to notice Tuck and FDR sneaking in while she dances around her home
This Means War was a flop in the US and was saved only by international audiences which helped recoup its budget. It's taken from a script that was floating around Hollywood for a long time and is basically the product of a marketing meeting where it was decided that the makers needed a chick-flick that guys would want to see too.
Yes, it's slick and polished but nothing about the movie makes sense. There's no character motivation, the inept action sequences which are clumsy and infrequent feel tacked on and the movie doesn't care about the subplot which might as well not be in it.
The guys have good chemistry but that's little consolation with what they have to work with. Pine comes across as an abusive arrogant sleeze and Hardy is crazily miscast as the plain one. But by far the worst off is Reese Witherspoon who has to act so dumb she can't even make a decision.
Cynical, nasty production line rubbish totally devoid of any heart or soul, This Means War is a disappointingly awful slapdash rom-com with spy stuff stuck on to it.
Watch This Means War Movie Now


Romantic Comedy

›
Action Romantic Comedy
› This Means War Movie