The Best Man (1999) Movie Review
by Judy
(London, United Kingdom)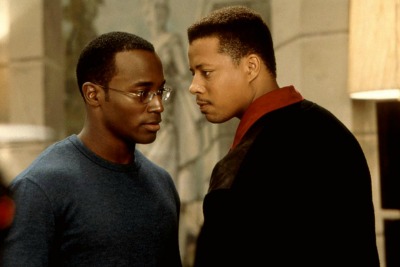 If you're looking for a wedding film with a difference, The Best Man should fit the bill. This bitter-sweet romantic comedy about a group of African-American friends features more real emotions than most wedding-day dramas. It's easy to see why the film was so successful at the time and has also proved to have staying power.

This was the first movie directed by Malcolm D. Lee, with his cousin Spike Lee producing. It's a glossy tale of upwardly-mobile urban professionals, with a great musical soundtrack featuring everyone from Stevie Wonder to Beyoncé to The Roots. The story centers on an up-and-coming author, Harper Stewart (Taye Diggs). He's eagerly looking forward to the publication of his first novel, Unfinished Business, chosen as a book club selection by Oprah Winfrey. Unfortunately though, Harper has based the novel all too closely on his real relationships with his college friends.

Harper is invited by his best friend from college, professional football player Lance (Morris Chestnut) to be his best man at his marriage to Mia (Monica Calhoun). However, Harper's book makes it rather too obvious that he once slept with Mia, who cried on his shoulder because of Lance's constant cheating with other women. When Lance is handed a pre-publication copy, the question is whether he will get round to reading it before the wedding. If he does, will he join up the dots and work out what happened?

Complicating matters further, Harper himself must decide whether to commit to his girlfriend, Robin (Sanaa Lathan). He loves her, but is also tempted to try for a second chance with TV reporter Jordan (Nia Long), the woman he hoped to have a fling with in his student days.

Although the film is enjoyable overall, the first half is rather slow, as the various characters are introduced at great length. There's an over-long section where Harper, Lance and their friends drink and talk about women, with some uncomfortable language and attitudes. Another problem is that the supporting characters, Harper's old pals Julian/Murch (Harold Perrineau) and Quentin (a scene-stealing Terrence Howard) are actually a lot more interesting than the leads. Also, the women, including Murch's bossy girlfriend Shelby (Melissa De Sousa) are not fully developed as characters. Mia and Robin both get little screen time and it's hard to understand why they are both so determined to stand by their men.

Fortunately, the second half of the film is much stronger, as the wedding approaches and events and emotions start to become increasingly complicated. Anybody who gets bored in the early part would be well advised to keep watching, because you'll find yourself caught up in the story. It's easy to become passionately invested in these characters and find yourself rooting for their happiness. The film's success led to a sequel released in 2013, The Best Man Holiday, with the main actors reprising their roles 14 years on. It's hoped that a projected third film in the franchise, The Best Man Wedding, will follow.