Salmon Fishing in the Yemen
Salmon Fishing in the Yemen, directed by Lasse Hallström (The Cider House Rules) was nominated for 3 Golden Globe Awards. The script by Simon Beaufoy focuses on a man who makes changes in his life and is quite different from Paul Torbay's book which focuses more on political satire.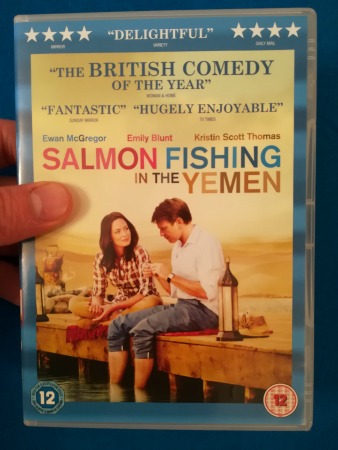 The story: A wealthy sheikh wants to bring the sport of fly fishing to the Yemen. The project will be extremely expensive but he instructs his London-based financial adviser Harriet Chetwode-Talbot to start the ball rolling. Harriet emails fisheries expert Dr. Alfred Jones who believes that the mammoth task is both ludicrous and unfeasible. After a mosque is blown-up in Afghanistan, the Prime Minister's press secretary Patricia Maxwell needs a good news story from the middle-east so she puts pressure on Alfred's boss to make the salmon project happen.
Pros:
Kristen Scott-Thomas is impossible to resist as she dishes out an energetic performance as caustic Patricia Maxwell
There's definite chemistry between McGregor and Blunt who not only look good together but both give pleasantly understated performances
Terry Stacey's gleaming photography is a delight to watch with the slow-motion shots of the fish specifically a stand-out
The Scottish scenes which were filmed southwest of Inverness are beautiful

Cons:
It seems strange that Harriet is so devoted to her boyfriend, special forces soldier Tom - after dating him for 3 weeks, she hardly knows him
The Prime Minister and his press secretary make scathing remarks about colleagues via

iChat

which could easily be hacked by journalists
The supporting cast members, notably Fred's wife Mary and Harriet's boyfriend Tom act well but don't have enough screen time and their characters could have been fleshed out more
The movie lacks a certain authenticity as the scenes of the Yemen were actually filmed in

Morocco

It's not completely clear why

Muslim terrorists

are trying to sabotage the sheikh's project
The movie feels a little unbalanced as the terrorist part seems out of place and doesn't fit with the light tone of the rest of the movie.
Why was security so lax allowing for an assassination attempt?
There's humor (which lacks edge) at the beginning of the movie but after that the tone becomes more dramatic and sentimental
The movie deals with themes of love, faith and the belief in the unobtainable. It's a story of hope and of going after your dreams and turning them into reality even when the odds are really stacked against you.
Blunt and McGregor work very well together and their romance is believable. Their relationship is real with its complications and flaws and there's a funny and charming dynamic between them because they're both quite different. Harriet is upbeat and hopeful while Fred is set in his ways and somewhat repressed and even though he strives to offend her she's more baffled and amused by him than offended.
However, Simon Beaufoy's script lacks the satirical bite of the book and the movie attempts to mix political satire with romantic comedy which doesn't always work here. It's a romantic comedy with a fishing background as opposed to a discussion of the nature of faith with a fishing background.
Salmon Fishing in the Yemen is gentle and uplifting and it has a sense of decorum and a formality that's charming but the story requires a giant leap of faith and it gets a little lost along the way.
Watch Salmon in the Fishing Yemen Now


Romantic Comedy

›
British Romantic Comedies
› Salmon Fishing in the Yemen