Sabrina (1995) Movie Review
by Elizabeth
(Gambia, West Africa)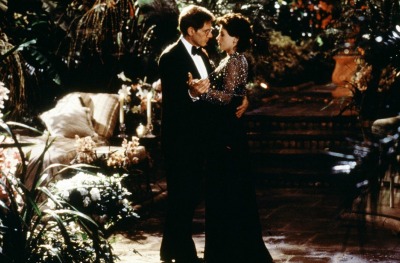 "Once upon a time, on the north shore of Long Island... there was a very, very large mansion, almost a castle". From the opening line of Sabrina, you know you're about to be transported to a fairy-tale world of riches, glamour and dreams come true. And no-one's dream is greater than that of young Sabrina, the daughter of the chauffeur to the Larrabee family. From her perch in a tree, Sabrina has watched the unreachable world of the Larrabees for years, longing for a life she can never have. And especially, she longs for David Larrabee – blond hair, blue eyes and the ability to cast any woman under his spell.

Undertaking a remake of the classic Sabrina (1954), and following in the hallowed shoes of director Billy Wilder, was a daring step by Sidney Pollack. It was also a brave cast of actors to take on roles made famous by the likes of Humphrey Bogart, William Holden and especially the incomparable Audrey Hepburn. However, Harrison Ford brings gravitas to the role of Linus Larrabee, David's serious elder brother, who's so committed to the family fortune that he's known as the "world's only living heart donor". Greg Kinnear was born to play David, the charming but feckless younger brother, and Julia Ormond shines in the role of Sabrina Fairchild, even if she's a little unconvincing as an "ugly duckling" in the early stages.

This delightful modern-day Cinderella story records Sabrina's gradual transformation from a gauche teenager into a poised and confident woman, as a result of two years spent working in Paris. Yet her weakness for the handsome David remains as strong as ever. On her return, David is stunned to see such a beautiful swan return to Long Island, and true to form, becomes totally enthralled with "this week's love of his life".

But there's a catch. He's already engaged to high-flying pediatrician Elizabeth Tyson, the daughter of businessman Patrick Tyson, and the planned wedding will broker a multi-billion dollar deal between the two families. So, is Linus happy to see David's infatuation with Sabrina? Absolutely not. He "sends himself" to distract her (having first put David out of action), setting out to lure Sabrina's affections away from David at all costs. He intends to rescue the deal by feigning a sob-story of himself as the lonely tycoon, with little concern about the ultimate consequences for Sabrina.

Sydney Pollack directs this movie with an assured hand, ably including all the essential elements of a good romantic comedy. There's the classic love triangle, with the "will they, won't they" tension, plenty of humorous moments and yet enough seriousness to make the story believable. The leads are complemented by a strong supporting cast, including John Wood as Sabrina's doting father, Nancy Marchand in fine form as the powerful matriarch with a heart, Lauren Holly as the knowing Elizabeth Tyson and a superb pairing of Richard Crenna and Angie Dickinson as her parents. Even the music seems like a character of its own, with a beautifully delicate score by the great John Williams, in delightful contrast to his more usual blockbuster mode.

So does this remake match up to the original? I have to say I love this movie. I found it relatively easy to suspend any minor quibbles (would an intelligent woman like Elizabeth Tyson really fall for a playboy like David Larrabee?), and immerse myself in a world of private jets, glossy corporate buildings and limitless wealth. Ultimately, I believed in the story, and was rooting throughout for a "happy-ever-after" ending.