Moonstruck (1987) Movie Review
by Cal
(Scotland, United Kingdom)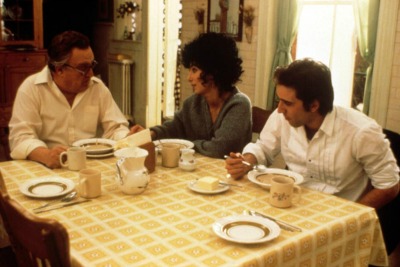 This Brooklyn-based romantic comedy is full of joyful, Italian-American panache. It was directed by Norman Jewison, and the screenplay was written by John Patrick Shanley. The leading lady is Cher, who plays sensible bookkeeper Loretta Castorini with a surprisingly convincing accent. She's engaged to Sicilian Johnny Cammareri (Danny Aiello) but attracted to his fiery younger brother Ronny (Nicholas Cage). When Johnny departs with an expectation that Loretta remain faithful until he gets back, the stage is set for a love that can never be.

Both main characters have an improbably tragic past. Cher's first husband was hit by a bus, leaving her a widow at the age of 28, while Cage has a painful story to tell about the reason why he is single. This all sounds very depressing, but in fact the film has many comic scenes and a few uplifting moments. The magical image of the moon is a reminder of the irresistible power of love. The ancient myths of Sicily color the experiences of each generation, creating a bridge between the Old World and the bustling metropolis of New York. There is a sense that love has happened before, and will happen again, but each time it returns, it's an amazing, all-encompassing experience that surpasses your expectations.

The chemistry between Cher and Cage is, of course, a mesmerizing feature of the film. Ronny is a complex figure who switches between bitter irony and passionate embraces. Loretta is cool and cynical, with little hope of a new love in her life. There's quite a lot of shouting and gesticulating, in true Italian-American style. As they navigate the minefield of forbidden love, against a background of sibling rivalries, infidelities and love/hate relationships, the strength of the family in Italian culture comes to the fore. Biting satire and unconditional love co-exist in a spicy mix of emotion that carries the film along. The viewer sees the working class struggle to find happiness through the twin ideals of hard work and strong marriage, even though the reality is often quite different from the dream.

Although there are plenty of laughs in this film, there's also an undercurrent of deeper meaning. The soundtrack is the main vehicle for this. The lilting melody of Dean Martin singing "That's Amore" hints at the theme of love in all its facets. Towards the end of the film, soaring operatic sounds highlight the exuberance and sheer joy of love, whether it comes in youth, middle age or retirement. The moonstruck infatuation of the film's title is just one dimension however, and there are plenty of other kinds of love on show. The marriage of Loretta's parents Rose and Cosmo is troubled by temptations and affairs, while the elderly grandfather receives excellent meals and pointed insults in equal measure.

Moonstruck was a huge box office success and won several awards for both its witty screenplay and the superb acting talents of the big stars involved. The women, especially, are able to embody all the troubling, exhilarating, frustrating aspects of love. For them, love is complicated. It seems to be one thing but turns out to be another. Through it all, the Italian family monitors each of its members, berating their mistakes and celebrating their successes. It's the glue that holds everything together, keeping relationships, church, food and music in constant interplay with each other. Moonstruck celebrates love in all its dimensions, without glossing over the difficult parts, and that's why it remains one of the best romantic comedies of the 1980s.