I Love You Phillip Morris Movie (2009)


I Love You Phillip Morris movie (2009) is based on a true story and is not about smoking! Jim Carrey gives one of the best performances of his career and should have won an Oscar for his role as Steven Jay Russell, a fascinating figure who was imprisoned multiple times for his numerous con artist schemes - and yet managed to repeatedly escape.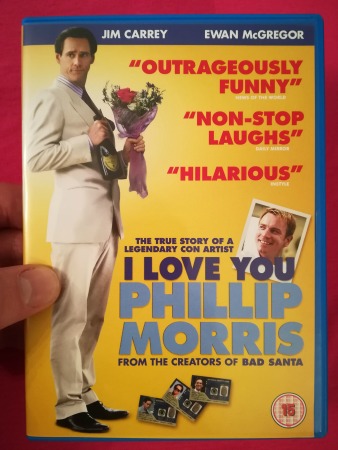 The story: Steven Russell is a happily married cop who, after being involved in a severe traffic accident decides to come out as gay. However, he soon discovers that being gay is very expensive prompting him to embark on a life of crime. He's unable to stop his addiction to swindling and he enjoys the lavish lifestyle it brings. Inevitably this lands him in jail where he meets fellow inmate Phillip Morris and soon the pair fall in love.
Pros:
Jim Carrey is phenomenal and he shows both his dramatic and physical abilities
Phillip Morris is played with a great deal of sweetness by Ewan McGregor
Captures your interest immediately

Steven's narration is hilarious and works very well
It doesn't patronize the subject of homosexuality and treats the romance like any other
One of cinema's most moving love stories

The script is very clever and plays around with you
Surprising story with so many turns
Wonderfully un-PC
The real-life Steven Morris plays a small part as a lawyer

Fascinating premise

Steven and Phillip make for a convincing couple

Lots of subtle, clever comedy
Great editing
Plenty of humor in the parts where Steven is escaping from prison
Cons:
Phillip believes everything Steven tells him without asking a lot of questions
After months of delay because of it's gay content, the movie only got a limited release
I Love You Phillip Morris is an exquisitely funny and thoroughly engaging true story of a gay conman who can't stop his addiction to swindling. It's set in the 1980s in Texas and has a few elements of the 2002 movie Catch Me If You Can. The real Steven Russell was sentenced to 144 years in prison and he broke out so many times and so embarrassed the state of Texas when George Bush was governor that they threw the book at him.
The film is a bit of a departure for Jim Carrey. Here he's still a comedic character just a different kind of one from his usual movies. He also displays his ability for drama which he showed in The Trueman Show. It's a great role for Carrey as there are moments where he can be over the top hilarious with his usual manic pace and then he can be sincere, cry and express his love for Phillip.
Ewan McGregor gets lost in the part of the timid and lonely Phillip Morris and seems very comfortable in the role. He gives an impeccable performance and his acting feels very real and natural.
The directors have done a terrific job in putting I Love You Phillip Morris together. The comedy is first-rate and the few unexpected twists scattered throughout will keep you wondering how everything will turn out for Steven and Phillip.
Watch I Love You Phillip Morris Movie Now


Romantic Comedy

›
Gay Romantic Comedy
› I Love You Phillip Morris Movie