Love & Other Drugs (2010) Movie Review
by Alex
(Brighton, United Kingdom)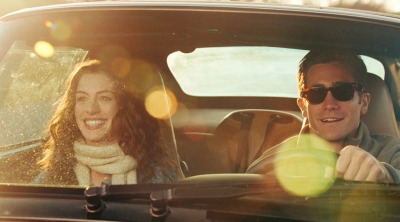 Love & Other Drugs is a film with lofty ambitions that it comes close to hitting but ultimately falls short. What could be a cautionary tale about the pharmaceutical industry, wrapped around an adult love story, shoots itself in the foot when it resorts to cheap yucks and cringeworthy humor. Edward Zwick's script almost hits it's mark and our leading pair share a great chemistry on screen, but unfortunately whatever goodwill is built up is eventually squandered.

The film is loosely based on the semi-autobiographical novel "Hard Sell: The Evolution of a Viagra Salesman" written by Jaime Reidy, a former Viagra salesman and whistleblower on some of the industries more shady practices. The book itself saw Reidy fired from the industry but was critically well received for it's comic portrayal of a manipulative and greedy world. It's a prime starting point for a movie but unfortunately it misses the point when the film makers get too tied up in their efforts to make a sexy comedy and forget that the whole idea of the source material's intention was to send up the industry in wry fashion.

Jamie Reidy becomes Jake Gyllenhaal's, Jamie Randall. He plays opposite Anne Hathaway as Maggie Murdock, the love interest with early onset Parkinson's Disease. It's great to see Gyllenhaal taking on more adult roles and no doubt his performance here leads to his recent resurgence as a seriously impressive actor. Anne Hathaway is believable as ever and comes across sympathetic as the ultimately doomed Maggie Murdock. The fact that their relationship is framed by Hathaway's incurable disease makes for a really complex plot compared to most run-of-the-mill rom-coms. Had it been handled better this could've hoped to tread some genuinely interesting, bittersweet, new ground.

Gyllenhaal's portrayal of a money hungry pharmaceutical salesman from an otherwise respectable medical family has a lot of room to grow and should be par for the course for a romantic comedy. Showing him learn how to ply his trade and con the medical world into buying his product using spurious research and cheap tricks, sets both him and the industry as a whole up as flawed. It's a great set up to the character but it's a shame that the opportunity to build him more believably towards redemption was wasted.

Unfortunately in an attempt to match the adult themes with equally adult humor, Zwick and his team fall too far on the side of gaudy and base rather than adult and sincere. There's more than a handful of jokes at the expense of erectile dysfunction, appropriate in context I suppose but lacking in subtlety. The absolute peak of awkwardness is one of the messiest attempts at a comedy three-way put on film which, in fairness to the actors, was well played but just poorly written and distracting from what could otherwise be a really interesting script.

All in all it's a film that's worth watching if only to see glimpses of how seedy and underhanded the big pharmaceutical companies can be. The onscreen chemistry between Gyllenhaal and Hathaway is impressive but ultimately lost on a script that doesn't know whether it wants to be The Whistle Blower or American Pie.