Knocked Up (2007) Movie Review
by Matt B
(United Kingdom)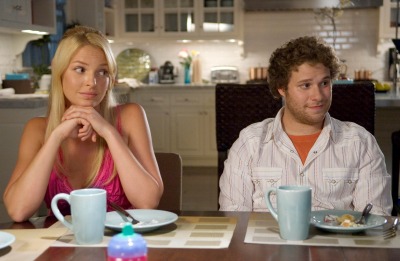 Judd Apatow's Knocked Up ticks a lot of boxes for an enjoyable adult comedy. The movie's plot follows the repercussions of a drunken one-night stand between a slacker and a media career-woman that results in the latter being "knocked up".

One of the principal positives of the movie is surely the casting - in particular the lead male and female characters, played by Seth Rogen and Katherine Heigl respectively. Heigl smolders as uptight career woman Alison Scott, whilst Rogen, a frequent Apatow collaborator, is perfect as Ben Stone, the lovable loser who wins her heart.

A stellar supporting cast including Paul Rudd, Leslie Mann, Jason Segel, Jonah Hill, Alan Tudyk, Jay Baruchel and Harold Ramis helps to elevate the narrative and humor a step higher.

The plot of both the A story - the burgeoning relationship between Ben and Alison following their one night stand - and the B story - Ben and his friends' attempts to start a celebrity porn website - are great. They are captivating and funny and give the audience empathetic characters.

The runtime of the movie, at 129 minutes, is also a positive aspect and unusually long for a comedy. Most comedy films run under 95 minutes, but Knocked Up's generous runtime enables the plot(s) time to unfold and doesn't give the film that slapdash feel of a rushed ending that befalls most rom-coms.

However, Knocked Up isn't without its bad points and areas that didn't work so well and it's also important to look at these.

For one thing, though the supporting cast are great in principal there's certainly the feeling that there are perhaps too many supporting characters in the film. The characters of Jonah and Jay, for example, seem to exist purely for comic effect and serve little purpose to the plot.

There have also been accusations of sexism leveled at the film, many of which do have some degree of truth to them. The character of Alison for instance seems a nice, bland girl with no needs or desires of her own and seems to be used purely as a vessel to develop Ben's coming of age and growth into fatherhood.

Another possible drawback to Knocked Up, though admittedly a subjective one, is the appeal of the material. The film is undoubtedly a broad comedy and it contains a lot of immature and puerile humor, oftentimes to a fault. The exchanges and banter between Ben and his friends may begin to grate on older viewers.

The principle premise of the film is also a little implausible and more than a little clichéd. It's highly unlikely that Alison would be attracted to Ben as he has nothing going for him in his life when they meet and she's very much a driven, career-minded woman. Furthermore the film seems to employ the tired romantic-comedy cliché of putting the couple through a break up only to have them, inevitably reunite at the movie's climax.