It's Complicated Movie (2009)
It's Complicated movie (2009) is a funny love triangle made for grown-ups. The casting is spot on as Meryl Streep and Alec Baldwin have knock-out chemistry but it's Baldwin who gets the biggest laughs. Rich with snappy dialogue and an upbeat soundtrack, it'll keep you guessing right up to the end.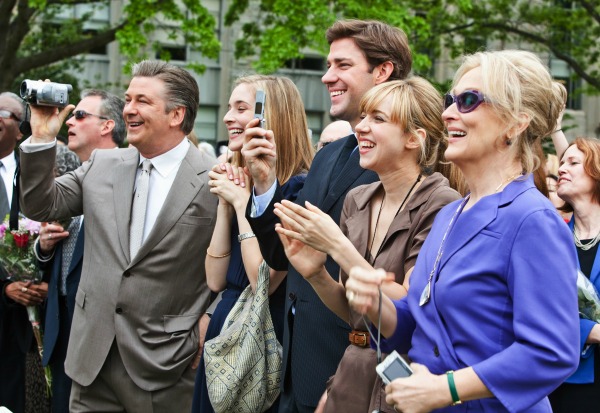 The story: Jake and Jane have been divorced for ten years. Jane's single and Jake is now married to the much younger and very controlling Agness (yes, that's a double s!) who has a child from a previous relationship. During a trip to New York for their son's graduation Jake and Jane start drinking in the hotel bar. One thing leads to another and they end up in bed together. Sensitive architect Adam who is designing Jane's new kitchen extension has the hots for her too.


Pros:
Tremendous acting from all involved
Alec Baldwin is at the top of his game and delivers one of the best performances of his career as playful philanderer Jake
What happens in the hotel room after they get totally hammered is side-splitting
Streep and Baldwin show their talent for physical comedy too
The movie's set pieces are stunning especially Jane's house and bakery
The soundtrack couldn't be any better with the music fitting each scene perfectly
Jake's webcam scene is hilarious
Steve Martin's nicely understated performance
New York's Park Avenue and St. John's University in Queens look fantastic
The film is one of the most expensive romantic comedies ever made and it shows
The look on Jane's face when she catches a glimpse of Agness' tattoo
Academy Award winning cinematographer John Toll does a fine job photographing the Santa Barbara coastline
Cons:
While the smoking pot scene was amusing, it seemed to go on too long
May be guilty of overemphasising the importance of sex in a relationship
Jane lives alone, her kids have moved out and her current kitchen has two ovens so why did she need to build a bigger kitchen?
Writer and director Nancy Meyers has a string of hits behind her thanks to a specific formula - she makes romantic comedies that appeal to older audiences. With It's Complicated, she gives us one of the best rom-coms of 2009.
What makes the movie work is it's intelligent and funny script and the fantastic chemistry between the cast. It's nice to see 50-something characters (especially Californians!) falling in and out of love.
Despite some familiar rom-com tropes, what makes the film feel very fresh are the performances. Streep is superb with some comical reactionary shots and Baldwin sends up his tough guy image with great fun. Steve Martin is also marvelous playing against type as the straight man. They all look like they're having a blast with their respective roles.
The film is filled with some nice moments. Listen out for the French song Mal ô Mains (hands are hurting) playing while Jane and Adam are in the bakery at night rolling pastry to make chocolate croissants.
Expect big laughs from this slick chick flick.
Watch It's Complicated Movie Now


Romantic Comedy

›
Romantic Sex Comedy
› It's Complicated Movie