Hope Springs (2012) Movie Review
by Ciara O'Brien
(Dublin, Ireland)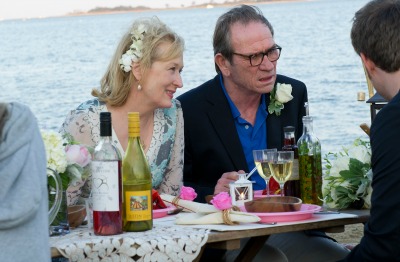 Having Meryl Streep in a movie is a little like having a Quality Assurance mark, you know it'll be well acted, scripted and directed before you even know what the subject is. Hope Springs is such a movie. Ostensibly a story of middle age and a marriage that has gone off kilter, Streep plays Kay Soames, one half of the couple in question, with Tommy Lee Jones making up the other half in the shape of her husband Arnold.

Unhappy with Arnold's complete disinterest in their life together, Kay signs them up for couples counseling with renowned therapist Dr Feld (Steve Carell) in a little seaside town in New England called Hope Springs. Shoehorning the corny title into the plot aside, the film is a sweet look at what makes a marriage endure through the good, the bad and the tedious habits that would have many considering hiring a hitman to get rid of their spouse. Not Kay though. In anyone else's hands, this timid housewife desperate to get her husband's attention could come across as cloying, but Streep plays her with just the right amount of gumption as to make her likeable, if somewhat inhibited.

In Kay and Arnold's 31 year marriage, which despite their having children it's clear from the offset has been at the single beds stage for quite a few of those years, it's apparent that the problems lie ostensibly with Arnold. This is where the film deviates from any preconceived expectations you may have. Jones, rather than playing the strong, silent macho type that has been his stock in trade for years, presents Arnold's emotionally blunted accountant with a range and depth that's more than a match for Streep. Tasked with intimacy exercises from the start of their sessions with Dr Feld, Jones portrays a man who is not unaware, just deeply uncomfortable with any aspect of his life that deviates from the routine he has created for himself within his marriage.

Not that the film is in any way bleak, far from it, and although there are serious moments and indeed some where it's hard not to feel for Kay and her attempts to find common ground with her husband, the tone is essentially light and we're never in doubt about the outcome. Although the film has its humorous moments (Kay's attempts to purchase a sex book and practice oral sex on a banana show off Streep's comedic timing) Carell's contribution too is notable in that it's essentially straight and reminds us of his versatility as an actor which has since been rewarded with his 2015 Oscar nomination for his turn in Foxcatcher.

While it's never going to make a list of the greatest movies of all time, there's enough in this film to satisfy those looking for something warm that investigates the human condition and will appeal to those of a certain age that helped to make The Best Exotic Marigold Hotel such a success at the box office in recent years. With two other actors in the leading roles, this could easily have become an instructional film about marriage guidance counseling but with Streep's dowdy Kay and Jones' repressed Arnold, this story of two people who have over time become separated by their routines is elevated to a study of what it really means to be in a long term committed relationship.