Friends with Benefits Movie (2011)


With such attractive leads you'd think Friends with Benefits movie (2011) would be smart, sexy and laugh-out-loud funny. However, it doesn't have any memorable or humorous lines, no chemistry between it's two leads and none of it feels remotely real. The premise itself is quite interesting but it's just another by-the-numbers romantic comedy.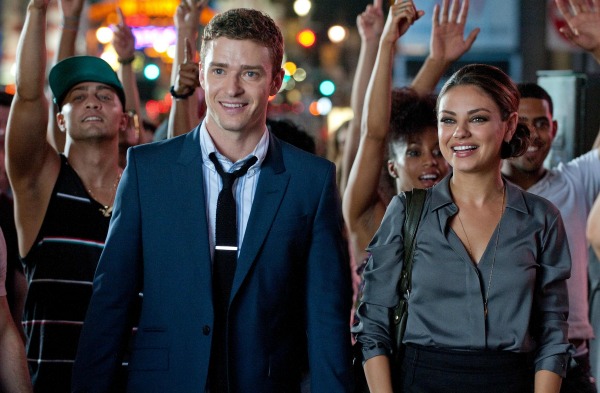 The story: Dylan is an L.A.-based web-page genius who's blog gets 6 million hits a day. Executive recruiter Jamie persuades Dylan to take a job as an art director at Gentleman's Quarterly magazine in New York. Dylan is new to the city and he and Jamie quickly become friends. Both have been dumped by their respective partners and have sworn off relationships. Even though they like each other they decide to become friends with sexual benefits.
Pros:
Richard Jenkins gives a touching performance as Dylan's Alzheimer's suffering dad
Jamie and Dylan are given backstories which explains why they're reluctant to be in long-term relationships
Manhattan looks glamorous and romantic
The scene where Dylan and Jamie climb the Hollywood sign is fun to watch

Cons:
It's Justin Timberlake's first leading role and he seems mismatched with Mila Kunis
The frenetic dialogue is lewd and over the top
It ridicules the clichés of other rom-coms but also indulges in them
Woody Harrelson's ridiculous performance as a randy gay man is awkward and embarrassing
The sex scenes, which there's too many of resemble wrestling
Dylan who's apparently in the know comes across as a country bumpkin when Jamie gives him a tour of New York
It tries and fails to convince us that it's not your average rom-com
Nobody objects when Jamie climbs onto a moving baggage carousel
Dylan and Jamie's cluelessness doesn't wash
Olympic snowboarder Shaun White's role is a complete mystery and his nastiness is never explained
It's too easy to see where the story is heading
Jamie's mom Lorna is overly quirky to be believable
Dylan's a savvy webpage designer but doesn't know what a flash mob is
Sitcom-like humor
Thanks to the movie's production company which is owned by the Sony Corporation, there's lots of Sony product placement

Loaded with product placement and similar to No Strings Attached but coarser, Will Gluck's flat offering delivers nothing new. It's as formulaic as the rom-coms it lampoons.
It starts out really fast paced with lots of banter back and forth to the point that it's difficult to concentrate on the story. The characters aren't very well realized, they try too hard to be witty and it's difficult to believe in their relationship issues.
Justin Timberlake and Mila Kunis play emotionally damaged people and are great to look at but unfortunately have no chemistry. Timberlake is good in smaller roles like in The Social Network but he's weak with the drama moments here and can't carry the movie.
A predictable tale that ends up going nowhere, Friends with Benefits is ordinary and uninvolving. It wants to upend the romantic comedy genre but ends up falling back on the same tired conventions. Unromantic, bland and fake.
Watch Friends with Benefits Movie Now


Romantic Comedy

›
Romantic Sex Comedy
› Friends with Benefits Movie (2011)