Don Jon


Don Jon is Saturday Night Fever for the internet era. It's highly original and very funny and reinvents the rom-com genre. Joseph Gordon-Levitt delivers a tour de force performance that you'll remember long after the movie has ended. He's supported by a fine cast including Scarlett Johansson and Julianne Moore.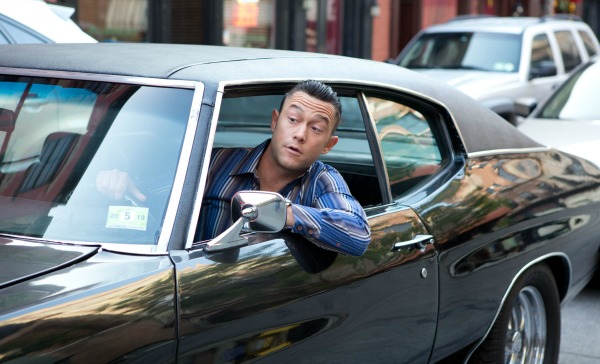 The story: New Jersey bartender, Jon Martello loves his family, his church, his car and his porn. He dates lots of beautiful women but none of them can bring him the pleasure he gets from watching pornography. When he meets drop dead gorgeous Barbara, he's disappointed that she won't jump into bed with him straight away. Barbara, like Jon has a skewed version of reality, only her addiction is romantic comedies. Now that he's in a real relationship, will Jon be able to able to control his porn obsession?
Pros:

Joseph Gordon-Levitt and Scarlett Johansson are marvelous together and have incredible chemistry with each other
A romantic comedy told from a male perspective
Impressive, nuanced performances throughout

Interesting concept of a guy who prefers internet porn to real sex
Explores real life contemporary issues from viewpoints of both genders
The story and the characters keep surprising us
There's sympathy for Jon as he explains his addiction and the reasons behind it
The clever nod when Julianne Moore (star of Boogie Nights) gives Jon a '70s Danish porn DVD
Great to see Tony Danza in a wonderfully memorable part, his interactions with Scarlett Johansson are hilarious
Refreshingly, little is said about the age difference between Esther and Jon

Stylish repetition of gym, driving, porn and church scenes
It examines the idea that the media and the internet far from bringing us closer has made us more isolated than ever
A neat spin on the rom-com genre
Cons:
Lots of profanity, but that only adds to the realism
Esther's motivations are unclear
The ending seems a little abrupt
Joseph Gordon-Levitt is one of the most talented people working in Hollywood today and he directs Don Jon with confidence and flair. Throughout, he shows why he's so highly thought of as a comic actor as well as a writer - as he superbly plays a guy who's hooked on pornography.
The supporting roles are terrific, especially Tony Danza who plays Jon's football-crazy dad. Danza and Gordon-Levitt starred together in the 1994 movie Angels in the Outfield and it was nice to see them pair up here again.
Not only does the movie look great, it has a lot to say about relationships and human nature in general. It's a great commentary of how men and women view love and how both genders have a fantastical view of it through different forms of entertainment. It reveals some truths about the way people act when they're in relationships, how men get really excited about pornography and how women get caught up in big movie romances both of which are not real and are just fantasies.
Don Jon is an intelligent and thought-provoking movie with a consistently unpredictable storyline. It's very funny and is an honest and revealing offering from a first-time director. It'll keep you interested, make you laugh and break your heart.
Watch Don Jon Now


Romantic Comedy

›
Romantic Sex Comedy
› Don Jon