Clueless Film (1995)


Clueless film (1995) is bright and witty with some of the best humor and entertainment the high school rom-com genre has to offer. It features a wonderful performance by Alicia Silverstone as Cher, the self centered 16-year-old daughter of a top lawyer.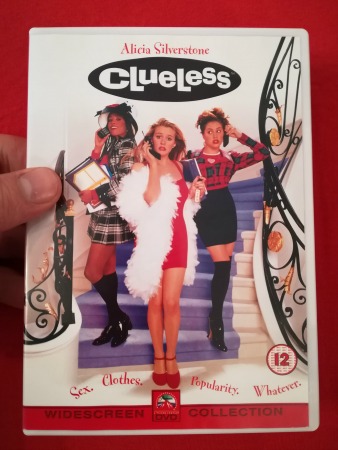 The story: Cher is a rich, pretty and popular but naive high school student trying to navigate her way through adolescent life. She lives in a mansion with her successful litigator father Melvin and his step-son by another marriage, Josh. Cher and Josh have a typical sibling relationship and gently tease each other. When Tai, a new girl transfers to the school, Cher and her friend Dionne give her a makeover so she can find a boyfriend. However, Cher wants a boyfriend of her own and when Christian, a mysterious new student arrives she embarks on some soul-searching and realizes that being popular isn't everything.

Pros:
Alicia Silverstone is perfect as enterprising rich girl Cher
Cher's litigator father is a beautifully written part and Dan Hedaya gives a brilliant performance
No dull moments
The dialogue is clever and fun
Light and playful tone
Some endearing moments between Cher and her father
Refreshingly all the main characters are female
Cher's narration is often hilarious
Rare for the time to have a gay teen character
Cher is genuinely sweet, good-natured and smart
Sex is talked about but doesn't dominate the story
It's merciless in the portrayal of lifestyles of spoiled LA kids
Cons:
The movie may seem dated but this is just a minor quibble
One of the funniest movies of 1995, Clueless is a confident and fast moving romantic comedy with a good heart. It's a social satire about the self-obsessed rich kids of Beverly Hills and is one of those comedies that starts fast and never looks back. It has total confidence in its material and provides sharp satire and a sweet story.
In many high school movies there's only a couple of characters that you really care about and everyone else is pushed aside but every character in Clueless is instantly likeable. Especially the main characters Cher and Dionne who we spend most of the movie with, they've depth, they care about other people and they're very much aware. The supporting cast are just as important to the central plot and they all play their roles pretty well.
The story is another great aspect of the movie. Very quickly it establishes itself as something very different from the usual high school rom-coms. It works really well because it's so outlandish and crazy. It has a lot of different subplots thrown in and all of the work so well.
The production design looks great - it's vibrant, eccentric and fun. Its wild costumes, locations and parties all lend themselves to the movie. The look and feel is very '90s which makes it a fun ride the whole way through. A near masterpiece!
Watch Clueless Film Now


Romantic Comedy

›
Teen Romantic Comedy
› Clueless Film