Billy's Hollywood Screen Kiss (1998) Movie Review
by Kiera
(Dublin, Ireland)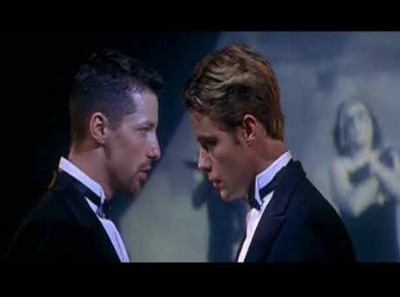 The most remarkable thing about Billy's Hollywood Screen Kiss is its age. Watching it today, it's hard to believe that this sensitive, nuanced portrayal of a gay man is nearly twenty years old. Sean Hayes, in the title role, is a world away from his more famous role of campy queen Jack on Will & Grace. Billy is charmingly unstereotypical, neither over the top camp nor consumed by guilt and doubt over his sexuality. He's calm, chilled and fun, confident enough in himself and in his sexuality to explain the Kinsey scale to others and happily declare himself to be a 6. This early role for Hayes also gives him a chance to show off the comedic talent that would make his name. It's no exaggeration to say that he carries this movie, and it's quite exciting to see the young Hayes as a star in the making.

Unfortunately, the delightful Billy is saddled with a real bore of a love interest. Blandly handsome waiter Gabriel, played by Brad Rowe, claims to be straight and in a long-distance relationship. Nevertheless, Billy falls for him. It's true that the two actors have undeniable, riveting chemistry - which, again, is shocking for a film released in the gay-unfriendly era when "Don't Ask, Don't Tell" was a matter of public policy - but Gabriel just isn't that interesting a character. It's hard to feel really invested in their will-they-won't-they relationship, because dull hunk Gabriel just doesn't feel worthy of sparky, lively, creative Billy.

The men struggle admirably with the material, and do particularly well when Gabriel finds himself spending the night at Billy's place. The sexual tension in this scene is gripping, but it's over far too soon, and the rest of the movie doesn't quite live up to its promise. Watching at home, the viewer starts wishing desperately that Billy would just get over his crush and find someone more interesting to pursue.

However, despite the rather leaden love interest, there's still a lot to enjoy here. Billy's creative project - reenacting famous heterosexual screen kisses from Hollywood classics, using drag queens - is well thought-out, and the soundtrack (complete with drag queen lip-synching) is perky and fun. The jokes are good, and Hayes really is a great comedic performer, although admittedly there's few laugh-out-loud moments. Billy's daydreams are real stand-outs, and will reward anyone who enjoys the Golden Age of Hollywood - there's plenty of references to classic films which may go over the head of non-cinephiles.

Most satisfying is the simple fact that this is a romantic comedy revolving around a gay man without relegating him to the position of sexless best friend, or turning his sexuality into a Very Special Episode-style educational experience. Even twenty years on, it's hard to think of many films that offer the same matter-of-fact view of gay life.

There's a lot of good ideas in Billy's Hollywood Screen Kiss, enough to suggest that there could've been a better movie if less attention was spent on Gabriel.