Beautiful Thing Movie (1996)


Beautiful Thing movie (1996) examines how difficult it is to grow up gay in a working-class environment. With some terrific performances across the board, it features a mostly unknown cast and unsurprisingly has a large cult following. The British Film Institute named it as one of the best LGBT movies ever!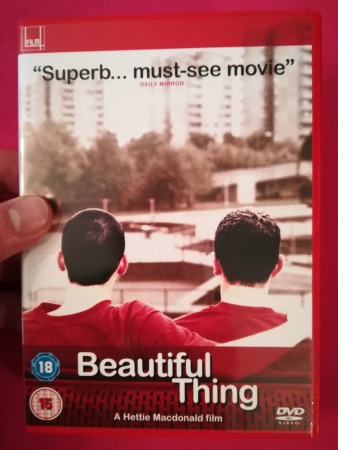 The story: Jamie and Ste live next door to each other on a council estate in Thamesmead, South East London. Jamie is shy and quiet and lives with his mum Sandra who dreams of one day running her own pub. Ste is an athlete living with his abusive father and older brother. After been beaten by his brother, Ste spends the night with Jamie sleeping "top-to-toe". The boys discover they have feelings for each other and the film is about the burgeoning of their relationship and how their friends and family deal with the discovery that they're gay.
Pros:
Glen Berry and Scott Neal are exceptional as Jamie and Ste

Linda Henry is perfectly convincing as Sandra and we get to know her hopes, dreams and problems
The witty banter is hilarious
It takes an interesting look at English working-class life
Jamie and Sandra's relationship is volatile and their arguments are very well-acted
It appeals to all audiences both gay and straight
The subplots don't draw the audience away from the main story of the boys in love

Sometimes there's a sense of claustrophobia from the scenes in the tiny flats
The supporting characters are unpredictable and very believable
Jamie and Ste aren't hunks, they're average-looking
The usual tying-up of plot strings is ignored
Even though it's adapted from a play, it doesn't feel restricted to the three council flats
Cons:
We don't see the bullying Jamie experiences in school
Sandra and Ben's relationship seems to be forgotten about during the last half of the film
It's unclear how far Jamie and Ste take their relationship
We never know if Ste's father and brother discover he's gay
The ending is quite fairy-tale like
Beautiful Thing is about celebrating being different and not giving a damn. It's a comedy with a serious message at its heart and a story about ordinary people that packs quite a punch. There's a lot to like here from the realistic characters, the witty dialogue and the story of shy Jaime's attempts to start a romance with Ste. We see how the boys come together in spite of living in a very harsh environment.
There's a huge ensemble cast and they play very big parts. Life isn't easy for any of these people and all of them face struggles just being who they are and facing the hardships of the world. The characters are complex and unpredictable - especially Linda Henry who plays Sandra, who's quirky, funny and flawed.
Director Hettie MacDonald does an amazing job, the acting is very natural and the story draws you in and hits you emotionally. You'll remember the love-story and the supporting characaters. One of the best gay-themed movies ever, regardless of its shortcomings. A must see.
Watch Beautiful Thing Movie Now


Romantic Comedy

›
Gay Romantic Comedy
› Beautiful Thing Movie