Adam & Steve (2005)


Adam & Steve (2005) is a small independent, gay screwball comedy that can sometimes be charming but is mostly crude and contrived. Watch out for brief appearances by Julie Hagerty, Sally Kirkland and Melinda Dillon.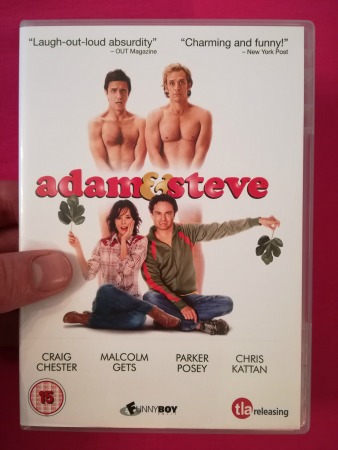 The story: It's 1987 and Goth couple Adam and Rhonda are at New York's Danceteria nightclub. Adam spots go-go dancer Steve, immediately falls for him and takes him home. Steve gives Adam drugs and their coke-fuelled one-night stand ends in disaster. Seventeen years later, Adam is in substance recovery and Steve is a clean freak psychiatrist. They meet, fall in love but don't recognize each other from their first date back in the 80's.
Pros:
The romance is unusual for a gay-themed movie in that the two leads are not in their 20's and they don't have perfect bodies
The characters of Adam and Steve are very likeable and make for an interesting double act
It's a lighthearted take on gay love
Some good one-liners but sadly not enough
Great to see Julie Hagerty as part of the supporting cast, one of the funniest actresses ever
Comedy veterans Parker Posey and Chris Kattan provide some laughs but again there's not nearly enough humor
Cons:
Too many awkward sight gags and weak lowbrow jokes
For most of the movie there's no conflict between the two leads
The writing is amateurish and the movie needs more editing
Very cheap-looking production values
The meaningless scene where Rhonda and Adam are sitting on a park bench and happen to be in the same pose as a nearby sculpture
The attempt to make gay bashing funny just doesn't work
Michael and Rhonda's dating is a convenient plot contrivance
Most of the supporting cast are too exaggerated to be believable
The line-dancing part is inexplicable
Adam & Steve is basically a story about four socially inept people. Silly, sweet and big-hearted, it has something to say about how difficult it is to have a relationship no matter if you're gay or straight. It doesn't have a coming-out story, the main characters don't have disposable incomes and they're not part of a community which is refreshing. It's an ambitious movie in that it has musical numbers, special effects and lots of different locations.
However, it definitely doesn't break any new ground and it misses a lot more often than it hits. The material is uneven and is too much on the gross side. Obvious setups and clichés abound and the movie can't seem to shake it's clunky feel. There are too many scenes that are badly written, pointless and very unfunny. Small complications arise that have nothing to do with the plot and only exist as setups for sight gags. The direction is poor and the focus is on low-brow humor and cheap laughs. Overall, the movie feels a lot like a school play production.
Watch Adam & Steve (2005) Now


Romantic Comedy

›
Gay Romantic Comedy
› Adam & Steve (2005)