40 Days and 40 Nights


Lacking in imagination and depth, 40 Days and 40 Nights is a clumsy and poorly edited tale that runs out of ideas fast. First-time screenwriter Robert Perez makes a mess of an idea that could've been developed better. It has Josh Hartnett but nothing else and it offends rather than entertains.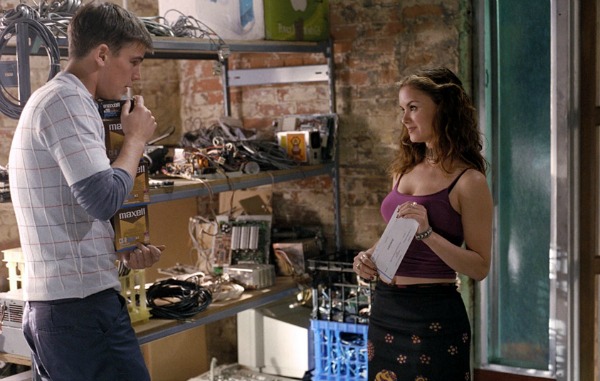 The story: Matt Sullivan, a San Francisco dot.commer has just been dumped by his girlfriend Nicole who's now engaged to someone else. After dating lots of girls he still can't get Nicole out of his mind. To please a demanding partner he's shocked to find himself faking an orgasm and so decides to abstain from all forms of sexual activity for Lent. Even his brother John, who's training to become a priest advises him that chastity isn't easy. In the meantime, Matt's co-workers start taking bets on whether he can stay celibate. A few days later, while at his local laundromat he meets cyber-nanny Erica and then the complications begin.
Pros:
Josh Hartnett shows some comic flair

and he

's somewhat convincing as a guy who wants to give up sex for lent

The talented Maggie Gyllenhaal does her best with the thankless role of Erica

's friend Sam
Cons:
It

's ridiculous how much everyone is obsessed with Matt

's abstinence

It

's tough to accept that Matt almost immediately falls for Erica

Set in San Francisco but shot mostly in Vancouver, the film lacks authenticity
It

's difficult to believe that a straight-up guy like Matt would get himself in such a tedious mess

Nicole is a loathsome character and it

's not clear what Matt sees in her

Ryan has to be the most annoying character ever

The production values look cheap

The animated breasts sequence seems out of place


Most of the supporting cast are Z-List actors and nearly all are unlikable

Nicole

's final scene is distasteful and unnecessary

San Francisco looks drab

One of the worst movies of 2002
This has to be one of Josh Hartnett's worst movies. He was pretty good in Pearl Harbor and Hollywood Homicide but here he's stuck in one-joke plot hell.
The movie's biggest problem is that it features unpleasant cardboard cutout characters who have one thing on their mind: sex. That's all they talk about and everyone thinks this is completely normal. They work in an office where nobody seems to do anything and the females dress like porn stars. When Matt abstains from sex, his co-workers are so annoyed with his celibacy that they scheme against him.
There's hardly any comedic moments and what jokes there are we've heard countless times before. There's an excruciating scene where Matt's dad discusses his sex life now that he's had hip replacement surgery which falls completely flat.
Short on surprises, 40 Days and 40 Nights offers nothing new to the genre. Hartnett is wasted and he's unable to lift the film out of it's doldrums. Also, the movie felt longer than it's 93 minutes running time. Disposable and forgettable.
Watch 40 Days and 40 Nights Now


Romantic Comedy

›
Romantic Sex Comedy
› 40 Days and 40 Nights